VOLUNTEERS NEEDED - Fall Training THIS SATURDAY, September 23rd, from 1-4 p.m.!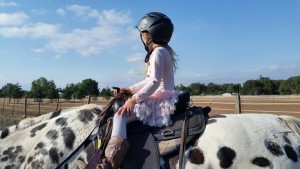 .....this may look like a happy lil girl in a pink tutu on a polka dotted pony on a sunny day........but for the Exodus volunteers, she is our motivation....and our inspiration......as we get to see this precious lil one overcome her history of foster care! We get to watch her grin from ear to ear as she masters riding this bumpy horse....and learns to follow directions and persevere and overcome........and our volunteers' reward??...countless grins and giggles.....there are almost 100 kids that visit Exodus weekly and WE NEED YOUR HELP! If you want to do something with a couple hours of your week that will last for eternity, if you want to participate in something that will better our wonderful community.....come this Saturday for wrangler training at the farm....1-4pm! Invest in the hearts and lives of our kids!....6411 Park Ridge Drive Anderson, CA 96007
Exodus Farms is always looking for more volunteers and horse experience is not necessary. Below are just a few of the positions we are currently looking to fill. If you are interested in any of these positions please contact us at 530-953-7178 or download the volunteer application here.
Exodus Farms Ministry Application
We have many volunteer opportunities available, depending on your background, experience, and interests:
Experienced Horse People - to help with the kids while riding
Greeters - to check in kids and families upon arrival at the farm and support families by simply being there to talk and pray with parents!
Professional Photographer - to photograph the kids, horses, and farm for the websites and other marketing materials.
Marketing Manager - to design and coordinate all marketing items such as brochures, t-shirts, etc. and set up a Cafe Press or similar site to offer merchandise for set donations.
Web Manager - to mainten the website, keeping pages like the wish list, volunteers, our herd, etc. up-to-date.
Donations Director - to monitor donations and make sure we stay compliant with all 501(c)3 regulations.
Fundraising Manager - to organize and direct fundraisers to benefit Exodus Farms
General Handyman - to help with general farm maintenance on a regular basis (experience needed - licensed contractors preferred)
Bookkeeper - to maintain books and financial compliance (licensed CPA preferred.)
Kids Activity Coordinator - to keep kids organized during parties and large gatherings when not all kids can be with the horses at the same time.