Many of the rescued horses that come into our program have had long lives behind them. No matter how old or troubled they may be we promise them a life in comfort here until the very end. There have been a few very special horses in our program that will remain forever in our hearts. The children who's lives were touched are a celebration of these horses time on earth.
Sierra Bey
Sierra was Exodus Farm's first rescue and touched the hearts of all who knew him. After he found his way home to Exodus he competed as a successful show horse and then taught many children the value of a tender heart. When our staff and volunteers think back on Sierra's life they remember when he carefully took the smallest steps with a timid rider or when he seemed to peek into the soul of a troubled youth and touch something deep inside them.
Sterling-O
Exodus "adopted" Sterling two years ago after receiving several emails about him that he was in need of a lifelong "dressage" home. Sterling was a 24 year old Danish warmblood that was imported from Denmark as a Prix St.George schoolmaster and had medaled two young ladies in the LA area in his prime. I met Sterling in Shasta Lake City on a warm August day and it was love at first sight. As a life long lease, my intent was to make his golden years more comfortable and to learn more about dressage from him but God had other plans. Exodus was a little short on bigger boned horses for our kids and adults so we put him to work, first with the House of Hope women, and he loved it!! He after that he participated in rodeo camp and worked with the kids weekly. Though he earned medals for his riders in the past, he shared God's amazing love and purpose with his riders! Rest in peace Sterling-O.
MAK-MAK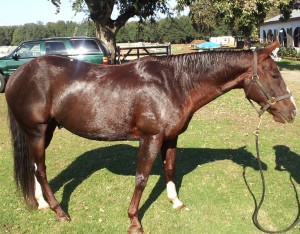 Mak-Mak is a lovely liver chestnut quarter horse in his early teens. Mak's previous owner Sam lived down the street from Exodus and was killed in a plane crash in Oregon in 2010 leaving Mak an orphan. Sam's daughter was going to keep Mak but found that it was not the season of her life to take him on so she donated her father's horse to our program. Mak's background was in reining/working cow horse and Sam, who was an Asphalt Cowboy and very active in our community, used him on many trail rides. We were concerned he might be a little quick for our Exodus kids but after a few months of rides, he has proved to be very reliable in our sessions. What we have learned about our beloved Mak is that he does NOT get along with other horses….AT ALL……..and is the first horse, ever, at Exodus…..to get a black eye from scrapping with his pasture mates! Needless to say, he teaches our kids daily about the consequences of not getting along with others!