Missy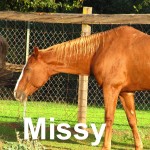 She is a 22 yr old quarter horse mare who while being at our facility the past twelve years, has had 3 teenage owners out grow her. The last one just left her here and rather than place her with "another" new owner, we have adopted her and Exodus will be her life long home. Those children who have lived in split homes or had multiple foster homes especially relate to this mare. Many times I have watched from a distance as she has silently listened to their heartaches. Before being a part of our family, Missy's previous owners were more interested in performance than relationship and her work always made her tense, unhappy and ill behaved. All the kids and wranglers have focused on helping Missy relax and slowdown and build relationship and trust with her and that has helped her disposition greatly! She has beautiful smooth gaits but put too much pressure on her and she gets all twisted but she is extremely trustworthy! Like so many of our kids, Missy is a very complex mare but is well worth the effort to get to know and trust. As she has aged, Missy has increasing problems with arthritis in her hind quarters but we have found that regular LIGHT work as actually kept her mobile. Though she is our biggest eater on the farm, keeping her weight up is always an issue so her monthly upkeep is always more than the rest of our gang!!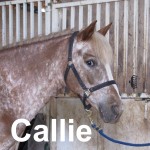 Calypso (Callie)
She has been known as that "crazy red pony" at many of the barns in the area. She is twenty one and is a Pony of America. She has packed kids forever but has always been quite rude, aggressive and naughty. She was left here by the last of many owners because she could no longer commit to the expense of keeping her and though we were not convinced that she would work well with the kids, we knew we could not send her "down the road" as she has always been so content at our farm. After two years of re-schooling and teaching her proper boundaries without beating her, which was her past, she became quite honest and happy in her work and we could begin to use her with kids. She is now the number 1 lesson horse in the barn. She has taught all of us that it is not our past sins that define us, but our relationship with our loving and forgiving Master that identifies us and satisfies us. She is a joy and Ginger refers to her as one of her best friends and "co worker". She struggles with arthritis in her hindquarters and we have recently made the decision to lighten her work load by both hours and rider weight and it has helped her greatly!!!!! Calle is truly a four legged treasure!
Commonly known as the graffiti horse at our farm because all of the kids learn horse anatomy by drawing and writing on my beauty with washable markers! We rescued Indy in the desert from an owner who was overcome by financial devastation and grief when he was 20 months old and starved nearly to death. We almost lost him to sand colic but because he was young and a fighter, he pulled through and he has been my dressage partner as we have learned together and the equine love of my life for the past seventeen years! Indi is a National Show horse, a relatively new breed which is a cross between an Arabian and a Saddlebred. He is highly mischievious and can be a sneaky biter-we like to call him Dennis the Menace with 4 legs. He is well schooled in dressage but has done lots of cutting and trails and is fabulous at humbling the student who seems to know it all! He is my personal horse but as I watch him teach some of the kids and adults to ride, he reminds me daily that all of our abilities and talents are of no value if we are not using them to minister to those God brings into our lives!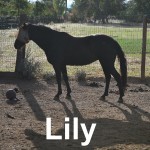 Lilly
When I first met Lilly, she dragged her owner all the way to the big barn. He was the father of one of my beginner students and had bought the pony off the internet for his daughter. Lilly is approximately twelve years old and a beautiful black Welsh cross pony. He brought her here two summers in a row to get her safe enough for his daughter to ride. Every time Lilly went home, she went back to her rude pony behavior within a month or two of not working. At the end of the second summer, his wife called and asked if I would like to have her-they were done spending money on her. Because she was the same name as my granddaughter and a beautiful pony, I said sure. (How's that for a reason?) I rode her for a full year (not a pretty picture!) and then I began slowly using her to teach students. She has turned out to be a lovely lesson horse and the smaller kids adore her! She can still have that stubborn pony brain but the kids are always able to win the "discussions" with her on their own. She has taught many a child the futility of arguing! All of our younger Exodus kids adore her.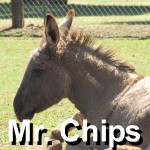 Mr. Chips

Mr. Chips is a ten year old BLM "wild" burro adoption and part of a two for one commitment when I adopted Georgie. Katie pleaded his case and I could not say no! I grew up with a donkey that made biting and kicking me his lifelong mission so I was not totally on board with jumping into another relationship with an "ass". But God had chosen him to be here and he is one of the Father's most amazing creatures. We call him the Lab donkey because he is so much like a dog, just wanting to hang with you and be patted and have his ears rubbed. We call him the crying donkey because he is the one the young ladies go to when life is falling apart and they just need someone to listen to them-I guess that is what those ears are for! We can actually lead students around on him-many want to know what it feels like to sit on a donkey. He has taught so many of us that sometimes that most important thing you can do for someone who's world is shattering, is to love them and just BE there!
We adopted Cheyenne last year from a senior couple who could no longer take care of him or Nickers. Cheyenne is twenty one year old buckskin appaloosa and supposedly had been used for trails and some team penning and we were told that he would be great with children. Within weeks, it was obvious to us that it was true. Cheyenne loved children, but as a food group and we had to pull him from any ministry work as we worked with him and his biting. He was also quite cranky under saddle so our wranglers also worked on riding him consistently. It became evident that much of his behavior was a direct result of pain he was in or anticipating pain he might experience. One of the best lessons that Cheyenne has taught our adults that sometimes we can be so naughty or disobedient that God cannot use us for a while. The best lesson he has taught us about our broken and wounded youth is that sometimes it is deep hidden pain that makes us contrary and "nippy"! Through chiropractics and some holistic treatments, we are managing Cheyenne's discomfort and he has become much more successful in his work!
Raised with Cheyenne, Nickers is twenty two and was adopted from the same couple. She also has some very odd and defensive behavior so one can only suspect that there are some pretty big holes in both of their handling and training. She has softened much quicker than Cheyenne and if she is approached and handled slowly, she actually quite likes hanging out with people. She is still pretty stiff in her steering but usually is willing in the end. When she does get defensive she squeals, which always seems to catch us by surprise. But then, I guess all of us squeal a little when we get defensive!!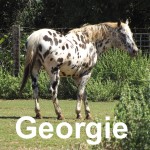 Georgie

What can we say about Georgie?!? He is our circus horse-crazy loud spots and horrible confirmation but the kids all ride him-and then they hate him!! We've thought about renaming him Tigger because he's so bouncy-not for the faint of heart. Georgie is fourteen years old and is a very loud tri colored leopard appaloosa. He's had a horrible wreck being tied up with major injury so he can never be tied but other than that he is pretty darn good at his job. Just seeing Georgie brings a smile to everyone's face and his antics make us laugh. And that might be the most important thing he teaches us-it is good to laugh!!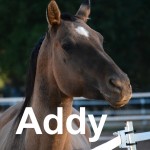 Addie
Addie is one of our newer horses, donated on a life lease to us from a dear friend of Exodus Farms in the spring of 2013. Addie is a registered dun quarter horse mare and is approximately ten years old. Addie was a broodmare for several years and as a result has been a little stiff and rusty to get going again under saddle, but she is coming along great and is used four days a week in sessions. The Exodus kids all love her looks and especially her zebra stripes…..Ginger loves her big brown eyes….says they remind her of a beautiful Jersey cow!
Our herd is a diverse group and Verro is no exception! Fondly referred to as the Great Wall of Horse by all of us at Exodus, Verro is a VERY tall twelve year old Dutch Warmblood gelding out of an Olympic stallion Ferro. Verro and his former owner were the reserve dressage champions at the 2008 RAAC competition. After a long bout with an injury and lameness, UCDavis recommended he might work well in a thereuputic riding program as a walk horse and so he came to Exodus. At first, he didn't know what to think of the "little people" but now he anticipates them coming out to get him. The smaller the child the more they seem to want to ride the "giant" horse and the care he takes of our wee ones never ceases to amaze me!!! The past several months, Verro has thrived on his pasture life and being barefoot and he has trotted or cantered off more than once with our bigger kids while playing a rousing game of "Red Light Green Light"…….apparently he is still quite the competitor!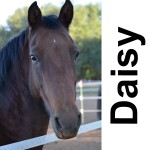 Daisy
Ahhh, our sweet lil Daisy Mae!!! Well, actually Daisy is soon to graduate from her Exodus retraining school. Daisy is a twelve year old bay Morgan mare that was used by one of our volunteers as a brood mare for several years and then donated to us the summer of 2012. Our volunteer thought that she would be great with our Exodus kids but we found her to be a little too quick with all of her reactions. So, we went back to ground work with her rehabilitation and started from there with a very dedicated volunteer, Margo. She has been under saddle now for six months and she is ready to introduce to the Exodus kids as one of our session horses. We are excited to see her realize her full purpose in our program. She is a very cute and athletic mare and we are very pleased that one of our wranglers, Josh Riddle will be riding her in the Buck Brannaman clinic this spring!!